Article By: Justin Hammond
In a world rich in retail options, we often find ourselves making our purchasing decisions based on marketing ploys and convenience, and not giving much thought to where the product came from or who put in all of the time to create it. Sometimes that is the story needed to provide the competitive advantage to a truly superior product.
Everyone who has been wakesurfing for 7 or more years knows the perils that went into creating the perfect wake. Constantly filling and moving fat sacks, shifting friends, and adjusting ballasts usually took up the first 30 minutes of any surf excursion. After a few years of filling up trash cans and inviting out his more heavy weight friends to create the ideal wake on his boat, Jared came across a solution to the ongoing problem. Lead Wake is a unique and time-saving way to add or adjust weight around the boat to create your perfect wake without hanging your friends off the side of the tower.
Jared Cutler is the founder of Lead Wake and shares a deep passion for watersports. He is also one of the unsung heroes that, without hesitation, will clear a burning building or save your cat from a tree. Jared is currently a Firefighter out of Burbank, CA who enjoys spending his time out on the water wakeboarding and wakesurfing with his friends and family, but when he came up with the idea for Lead Wake he was protecting the public as a police officer.
The road to becoming a firefighter was a long one. Jared spent years as a volunteer up and down the west coast and waiting tables to pursue his dream. When his first child came along, he realized that it was time to pursue a more financially stable career, but wanted to stay in the rescue service industry. Two detectives came into the restaurant where he was working and asked him what he wanted to do with his life, and he responded, "I want to be a firefighter." They simply retracted with "No. You want to be a police officer." Well, these detectives brought him in an application, turned it in for him, and next thing he knew, Jared was enrolled in the police academy.
He had his fair share of arrests and car chases, even rolling a police cruiser during a high-speed pursuit, but Jared still wanted to be a firefighter. In 2008, he was at the firing range when he noticed a barrel full of all the old discharged bullets from the range, and he had a great idea! Using the sewing techniques he learned from his mother, he created a dual layer vinyl system with impact absorbing foam that he would load the bullets into to create a 50lb weighted bag. Lead Wake was born!
The idea behind Lead Wake is relatively simple in that, if you are looking to adjust your wake, instead of shifting ballasts, fat sacks, and all of your friends on the boat you simply move the 50lb, 25lb, or 10lb bags to the side or position that creates your perfect wake. The Lead Wake's dual layer vinyl system with impact absorbing foam ensures that your boat will remain unscratched in the transfer process. They're affordable, durable, and now contain 100% stainless steel due to the rising cost, government sanctions, and exposure concerns associated with the use of lead.
The same year, while serving on the police force and making all of his products by hand out of his garage, Jared put in his application to the Burbank Fire Department to continue the pursuit of his dream. Out of the 3000+ applicants, he was one of the 9 accepted into the Fire Academy. At the academy he was top of his class, both physically and academically, but fate would soon deliver a heavy blow. While attempting a standard rappel from a 4 story window, a slack issue caused Jared to fall 15ft before being caught by the harness and slammed into the wall. His 220lb frame hit with such force that it crushed his L4L5 disc and paralyzed his left leg.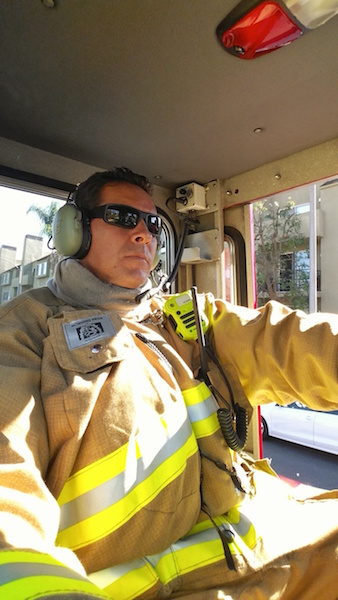 Check out Lead Wake in the Wake Enhancement Guide
Jared thought his firefighting career was over. Everything was put on hold. He had to endure 3 back surgeries, intense physical therapy, and a constant struggle with all of the unknowns piling up against him, but through it all Jared overcame all of his injuries. The Burbank Fire Department held his position for him and he is currently a happy family man and entrepreneur of wake shaping. His wife and kids even enjoy their time with dad out in the warehouse helping him make shipping packages, and even sewing and stuffing some of the bags themselves. A truly great Made-in-America story!