As one year comes to an end, we often wonder what the future holds. Surf Expo's 2015 answered that question. Hundreds clothing designers, apparel shops, board shapers, retailers and wholesalers gathered to show off their new product lines and scope out their competition. Just about every booth had added some sort of flashy attachments or put on really creative antics to draw in the attention of the passers by. We want to give you the Top 5 where we took into account how much time we spent there, how much fun we had there, and how impressed we were by the products!
#1 RinseKit
RinseKit - This was by far the most entertaining booth. As if it weren't enough being right next to the entrance sporting a runway filled wish Bodyglove models, these guys actually took their product and turned it into a competitive gaming system. First off, RinseKit is cool because of its convenience and easy transport, making it easy to clean yourself and your gear after a sesh, but when you add a couple of balancing boards, a moving target, bright blue lights and a good friend is when really gets interesting. Emotions ran high when Danny and I prepared to battle each other. Let's just say that both of us decided to spray the other as a form of distraction forcing us both to walk away wet, but with huge smiles on our faces
#2 Electric Boards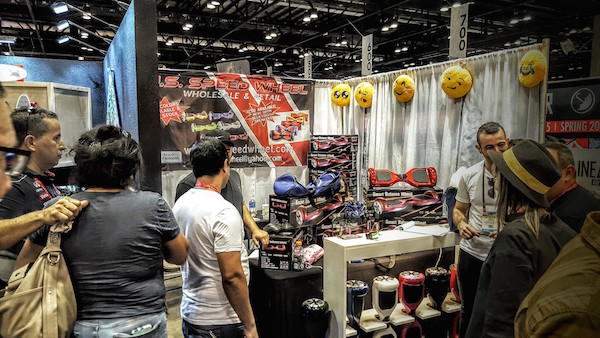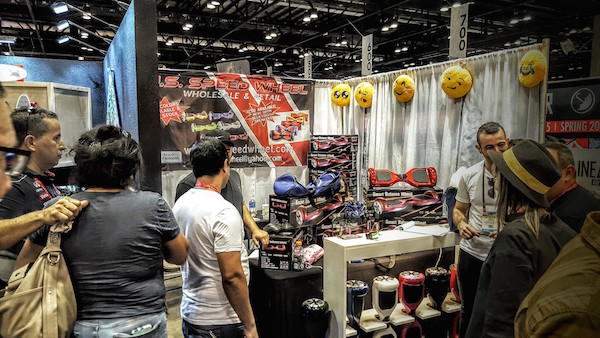 Electric Boards - It was hard to choose just one of the electric board booths as the best, because every one of them allowed you to take their boards for a spin. Boosted Boards and E-GO rocked the handheld remote propelling the four wheeled long boards up and down the isles. Dakut and Speed Wheel took to two wheels incorporating forward facing balance sensors to control speed, and OneWheel invoked a thrilling sensation as it is, as the company name suggests, balancing on one wheel! You would see people floating around on the boards constantly with riders ranging in ages from small children to grown adults. Truly an epic sight.
#3 Slingshot
As far as product went, they had the full gamet. You name it they had it. There was a variety of SUP boards; inflatables, surf style, planing, racing and they had different models of each. Then they had their section on kites, kite boards, boots, bindings, harnesses.. Even their long board company, MOONSHINE MFG, was completely stocked and dressed to impress with their latest in uniquely designed boards and accessories. An exciting new addition to the SlingShot's family was introduced at Surf Expo; Ride Engine, their new wetsuit, PFD, kite harness, luggage, and clothing company. We are stoked to share their new wetsuit technology/design soon! Another highlight was the jungle juice at 4pm!
#4 Inland Surfer
Inland Surfer - It seemed that every time we walked by the booth, one or more of the industries elite wake surfers was talking with the owner, Jeff Page, and checking out his new dialed in pro models. Jeff has been doing these expos for two decades and still has the same demeanor and sense of humor that he always has, making it fun to stop by and talk to him about pretty much anything. Really looking forward to trying out a few of the new 2016 models that he and his team have put together. Keep an eye out for their team rider, and newly announced Wake Surfer of the Year, Keenan Flegel and his new pro models. They are looking pretty sick!