Written by: Dan Sauvageau
Photo Credits: Shon Ribera, Creating Rockstars Productions & Andy Guillinta
What do you get when you combine world class, cutting edge WakeSurf Boats, artisan crafted WakeSurf Boards, a phenomenal group of passionate riders, and one of Northern California's warmest February Days? The W.E.S.T. Riders organization called it "Ground Hog Surf Sesh," those in attendance called it EPIC!
The air temperature at Folsom Lake, CA rose to the mid-seventies on February 15th, 2015, making it one of the warmer February Days to date and perfect for shredding the infinite wave behind some of this year's leading wave makers: Nautique Boats G21 & Super Air 230, Mastercraft's X-23, and Centurion Boats FS-33.
With the Centurion driven by Pro Wakesurfer Sean Cummings heading to open water at 11:00am, the first annual W.E.S.T. Ground Hog Surf Sesh was underway. The new MasterCraft was next to depart the courtesy dock, followed by the G21 and the Super Air 230. All riders were given the opportunity to shred behind each boat on their own boards, each others, or one of a handful of boards from the industries newest wakesurf board company, Zombie Surf Company. "These Zombie Boards ride great!" exclaimed Rob Harrington after his set, "Super fun and super fast!" Headed up by Frank Wolter, these boards are expertly hand-crafted and tested by pro wakesurfers before blanks are finalized and made available for purchase.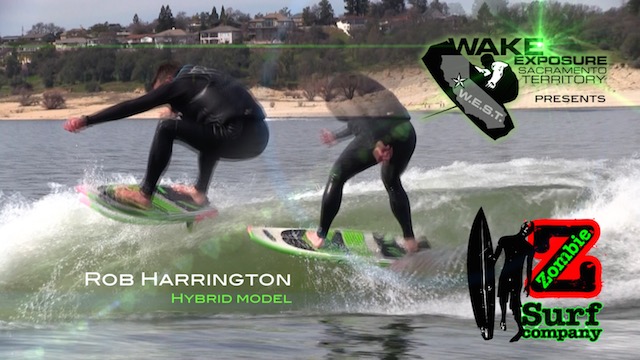 After the first set was over, the boats and riders were called back to the dock for a catered lunch of gourmet deli sandwiches from Beach Hut Deli in Granite Bay. During the lunchtime lull, riders were encouraged to climb in and through the boats and talk about the pros and cons of each. The stand-out favorite in the fit and finish department was Mastercraft's new X-23. Expertly thought-out details abound in this new-for-2015 model. Every seat seemed to be the best seat. There is no uncomfortable spot in this boat's cabin. Everyone loved the rear-facing transom seats. The Centurion's CATS, Wingplate, and RamFill made its monster wave the most tune-able of the featured boats. Here is what Pro rider Hunter Clement said about it, "I loved riding the FS33 wave that Sean dialed for me...it was super tall!" The pair of Nautiques and the Natique Surf System (NSS) made for "funnest wave" of the group. Todd Johnson was able to complete a double transfer during the W.E.S.T. Wedge set. These magnificent boats and their growing capabilities continue to push the sport to heights never thought possible in the earlier days of Centurion's The WAVE.
Touted by most as the stand-out highlight of the day, the W.E.S.T. Wedge was an amazing playground for seasoned shredders to test their skills. The Super Air 230 and the G21 were driven side-by-side not more than a couple feet apart creating a huge bowl behind the boats. Riders were able to surf the goofy side of one boat, the regular side of the other, and everywhere in-between. Pro surfer Todd Johnson said as he climbed on board after his wedge set, "That was the most fun I've ever had behind a boat!"
Like most W.E.S.T. events, this one was free to all attendees and sponsored by the local Nautique Boats dealer, Superior Boat Repair and Sales in Rancho Cordova, CA. Beach Hut Deli in Granite Bay supplied a seemingly endless assortment of delicious sandwiches. The guys over at Zombie Surf Company from Concord, CA supplied some of their newest creations, hot out of the shaping room. Special thanks and appreciation need to go to NorCal MasterCraft in Rancho Cordova, CA for providing their X-23, Mello Marine in Rancho Cordova for supplying the Centurion FS33, Creating Rockstars Productions for the incredible videography and video production (coming soon), Andy Guillinta for the beautiful stills, and Mrs. Katie Sauvageau for coordinating and directing riders and holding down the beach.
"Even with this being W.E.S.T.'s 3rd season I am always impressed with our events growth and attendance of riders from the beginner to seasoned pros. I hoped, but never anticipated such enthusiasm and drive from our local community to make these event so much fun for all. Thanks to the support of Superior Boat repair and sales we all get to ride the newest and best Nautique has to offer. The 2015 season will be bigger and better due to the support of local shops and eager riders making this all possible!"
- Rob Goldstein, W.E.S.T. Founder
"It's great to be a part of a Wakesurf session where multiple manufacturer boats are involved along with so many variations of rider levels and to watch everyone laugh and smile all day doing what makes them happy...including me."
- Sean Cummings, Pro Wake Surfer
"When you put a group of progressive, positive people behind the raddest boats and boards coming out this year, you know its gonna go down. I love these freeride events when everyone's just enjoying surfing. Supa-Shaka to the W.E.S.T. Riders and all the sponsors for puttin it all together. You guys ROCK!"
- Todd Johnson, Pro Surfer
"We were just in for a weekend surf session when some Top-of-the-Line surf boats came out of the woodwork. A gathering of welcoming folks reaching out into many communities for the same purpose; Share the Passion. Middle of winter, boats, boards, strangers, friends, new and old...Open to all and all were welcome. I love this game..."
- Rob Harrington, Local Legend
"Such an awesome day! So many amazing people, great times, and great waves!! Thank you so much everyone for the amazing day!!
- Kelly Perkins, Wake Surfer
"It felt like we owned the lake!! We had a party in our backyard." - Stephen Sunde, Rider
"What an awesome day today. Thank you to everybody who came out today to make it such a success! I was truly impressed by the turn-out, and drive of every single person out there. Thank you Rob Goldstein and Dan Sauvageau for putting all this together. I also want to spotlight Superior Boat Repair and Sales and Bob Bense for all their support to help make events like these possible."
- Andy Guillinta- Pro Photographer
Who is W.E.S.T (Wake Exposure Sacramento Territory)?
-From the W.E.S.T. WakeSurf Division Director
Like the name implies, we are Wakeboarders, Wakesurfers, JetSkiers, WaterSkiers (I think), who all share a combined and common passion for our chosen wake sports and are driven by that passion to "expose" anyone and everyone to the wake sports and boating community. It is by doing so that struggling to find a third or getting stuck learning a trick or sitting at home bored on a weekend will be long forgotten. We'll always have an eager W.E.S.T. member to be that third or teach you that trick or accompany you to an event. It's that simple.
As our member base continues to grow, and by pooling our combined resources and huge vendor support, we are afforded the tremendous opportunity to support worthwhile charities such as Wake the World who have already benefited from us and the NightSurfSesh charity raffle. A few of our members are actually in the process of starting a NorCal Wake the World chapter right in our neighborhood!
I for one, over the last two years have made some very good and potentially life-long friends as a direct result of my "liking" and "following" W.E.S.T. My riding has improved 100 fold and I've been able to help improve many other riders' (mostly surfers) abilities as well. I've learned the best ways to "dial" my boat and tune my gear and have eagerly passed this new knowledge along to anyone who'd accept it. We are a "helping" community. A "growth" community. I love being a part of it.
Here's to an AMAZINGLY FANTASTIC 2015 boating season!!!!!!
Find out more about W.E.S.T. at www.westriders.org and FaceBook Group W.E.S.T.
Get involved!