We pulled into Mirimar Beach, Florida and went looking for a place to SUP and happened to drop our boards in at a park next to the house of Jeff Archer, founder of Yolo Board. In life you attract the energy you put out. Opportunities arise for everyone that were meant to be. For us, connecting with Jeff was one of these moments. YOLO- You Only Live Once - we learned why this phrase is so powerful and how much influence Jeff has had upon the sport of stand up paddle boarding in such a short amount of time. Jeff happened to be in his backyard and saw us dropping in. We introduced ourselves on the water that evening and then agreed to meet up and paddle together in the morning.
In the morning Jeff invited us in for a cup of coffee at his home in paradise right there in Choctawhatchee Bay, surrounded by tall trees and a private dock that jetted out into the bay where his dog Flee joined us and jumped on Jeff's orange Yolo racer. We paddled to the right and after three miles of conversation we arrived at one of Yolo's board rental locations that was tucked away inside a cove that was also a key place to catch redfish according to Jeff. Jeff talked to us about the popularity and success of rentals as a foundation for introducing people to the sport and for Yolo board sales. Destin, Fl is a vacation destination and many people have come, learned how to paddle, and drove home with a new love and YOLO SUP Board.
Following our paddle we loaded up our boards and headed to tour one of the Yolo Board shops. Jeff has designed a shop that is a reflection of years of dedication and a healthy communal attitude. It was exciting to see all the new products and the variety of Yolo gear including a new line of Yolo beach cruiser bikes. After checking out the awesome gear and boards in the shop we made our way to the back of the store to the private pond where they also host SUP yoga classes. Shop manager Curt told us about the future activity and wellness center plans that included a place to work out, hang out and grab a healthy smoothie or some tea in the morning.
If you are in the panhandle of Florida make sure to find the closest YOLO Board Adventure spot for a possibly life changing experience. Thanks again Jeff and the whole YOLO team for your hospitality and time spent with us! Learn more about Yolo Board.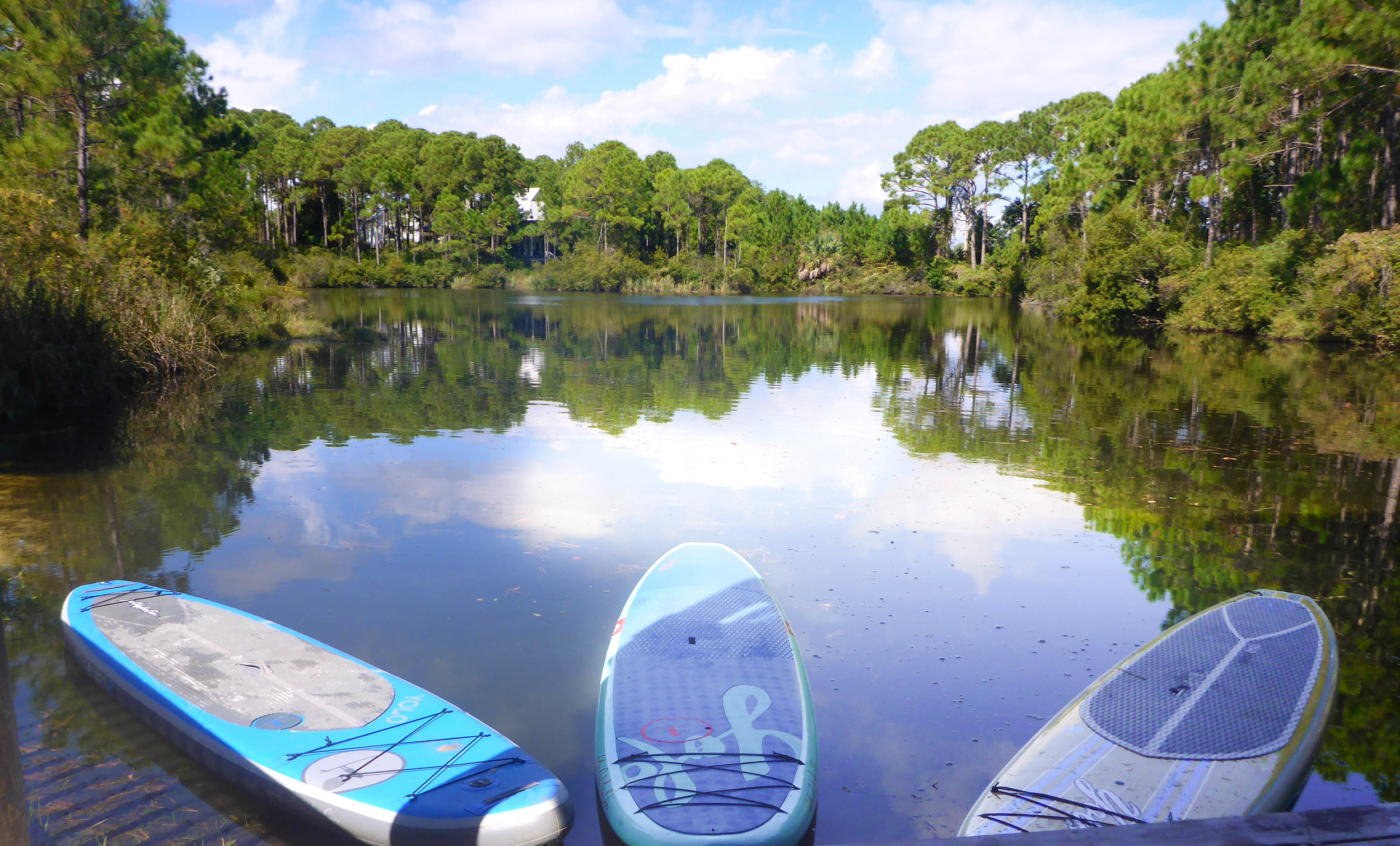 Article and Pictures by: Tyler Marshall